What a couple of months! My father was in and out of the hospital, doing much better now. PaleoPathologist and his brother went fishing for salt water fish in Belize with fly rods, and we did not eat any of the bonefish we caught. Paleo? Hm. I can tell you that even a little bonefish is like a torpedo compared to a trout in the Rockies.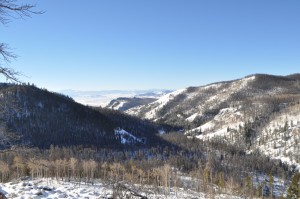 Then Incredible Wife and I went out to see two Cave Babies (two of the Grands) and had a great time.
A couple of weeks later PaleoPathologist and his son in law, who was an Army Ranger trainee, took to the hills to try to collect our own grass fed meat. We brought back a Doe Deer and ground the meat on Incredible Wife's kitchen counter; should have taken some pictures, a Neanderthal would have been proud, shocked, and awed to see that machine spit out deerburger. There was one downside: the liver got damaged and I had to leave it for the coyotes.  (We saw bighorn sheep, deer, bald eagles, pronghorn antelope, and even a cougar stalking a deer. Even if you don't bring home an elk, PaleoPathologist  has discovered that elk just don't live in ugly places.)
Happy to get back on the horse here. I've got more about exercise, cooking, fat, all kinds of good stuff. Stay tuned!