PaleoPathologist is fortunate enough to go with Incredible Wife (IW) and a mix of daughters, sons in law, grandsons, parents, etc. to a beach trip each summer. Sometimes it is Holden Beach, North Carolina, this summer it was La Jolla, CA. The picture of course is totally candid, unposed, and naturally I was breathing in a totally relaxed and easy manner.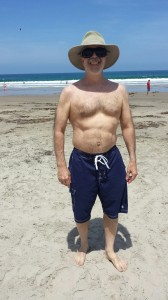 ..
PaleoPathologist has found something totally anecdotal but very interesting. Since going Low Carb, High Fat, Moderate Protein, highly nutrient rich, and supplementing vitamin D, he doesn't sunburn much any more. The above picture was after about half an hour in the La Jolla sun. There are lots of other anecdotes out there and Mark Sisson has  posts on various ways to survive the sun without sunscreen. PaleoPathologist needs to take some more time to research UV and skin cancer because PaleoPathologist really hates melanoma in his patients and would hate it EVEN MORE in himself! (Note: he did about half an hour or so then put on a full size sunblock swim shirt for the rest of the morning. PaleoPathologist can be stubborn but prides himself on not being totally stupid.
So what have you found with sun exposure? Any similar, or contrary, experiences?